Join
---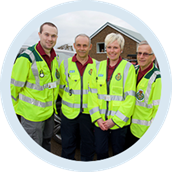 Community First Responders come from all different walks of life and volunteer for many different reasons. Anyone who wants to help their community can become a CFR. No previous medical experience or training is necessary although you will need a caring attitude and be able to cope with potentially distressing situations.
Application Criteria
You need to:
Be able to commit to a minimum of 20 hours per month of voluntary service (to be arranged in conjunction with fellow local volunteers)
Be over 18 years of age 
Hold a valid, full UK driving licence with no more than three penalty points (Please note we cannot accept volunteers with Drink Driving Endorsements until a period of 11 years has expired from the date of the offence as per the Yorkshire Ambulance Trust Pre-Employment Policy)
Have access to a vehicle which can be used for responding purposes
Be prepared to undertake an Enhanced Disclosure and Barring Service check and be prepared to disclose any previous convictions, cautions, reprimands or warnings, including those which for other purposes may be considered spent. (Please note this post is exempt from the Rehabilitation of Offenders Act and acceptance is at the discretion of Yorkshire Ambulance Service). Failure to disclose any previous criminal record will affect your application.
Be prepared to undertake occupational health screening
Be prepared to undertake our training course (To be completed by all applicants regardless of prior experience).
In addition to the above volunteers are also required to,
Attend bi-monthly scheme meetings
Assist the scheme in meeting its objectives which may involve assisting with rota compilation, recruitment etc.
Keep up to date with developments by regularly checking email and reading the regular newsletters
You will be asked to attend a welcome evening and introduction to Yorkshire Ambulance Service. We will then arrange training in your local area.
How do you apply to become a CFR with YAS?
Check the map below to see if there is a local CFR scheme in your area.
Then click here for further information on how to apply.
Our admin team will get back to you as soon as possible with further information on how to join your local scheme.
Local Schemes