Join
---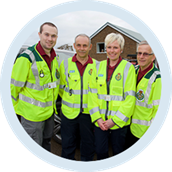 Community First Responders come from all different walks of life and volunteer for many different reasons. Anyone who wants to help their community can become a CFR. No previous medical experience or training is necessary although you will need a caring attitude and be able to cope with potentially distressing situations.
You need to:
be aged 18 or older
hold a valid, full UK driving licence with no more than three penalty points
have access to a car
be prepared to undertake a Disclosure and Barring Service check
be prepared to undertake occupational health screening
be prepared to take our CFR course.
You will be asked to attend a welcome evening and introduction to Yorkshire Ambulance Service. We will then arrange training in your local area.
How do you apply to become a CFR?
Check the map below to see if there is a local CFR scheme in your area.
Please send an email to yas.communityfirstresponders@nhs.net along with the following information, please make sure you provide all details so that we can deal with your enquiry in a timely manner.

First name 
Last name 
Email address 
Contact number 
Full address including post code
Our admin team will get back to you as soon as possible with further information on how to join your local scheme.
Local Schemes